Madden's Bar
What better place to kick off Belfast Traditional Music Trail than in the legendary Maddens Bar, home of trad music! A visual landmark in itself with its beautiful coloured Celtic-style graffiti, it has welcomed hundreds of both musical legends and beginners from all parts of the world for over 50 years. Step inside Maddens, step inside a world where the living tradition subsist… We strongly advise on treating yourself with a refreshment at the bar downstairs before making your way up the back stairs to the old wooden-floored room to meet with your guides…
Follow Maddens on socials for regular updates on and footage of sessions at @maddensbarbelfast_home_of_trad
74 Berry Street,
Belfast, BT1 1FJ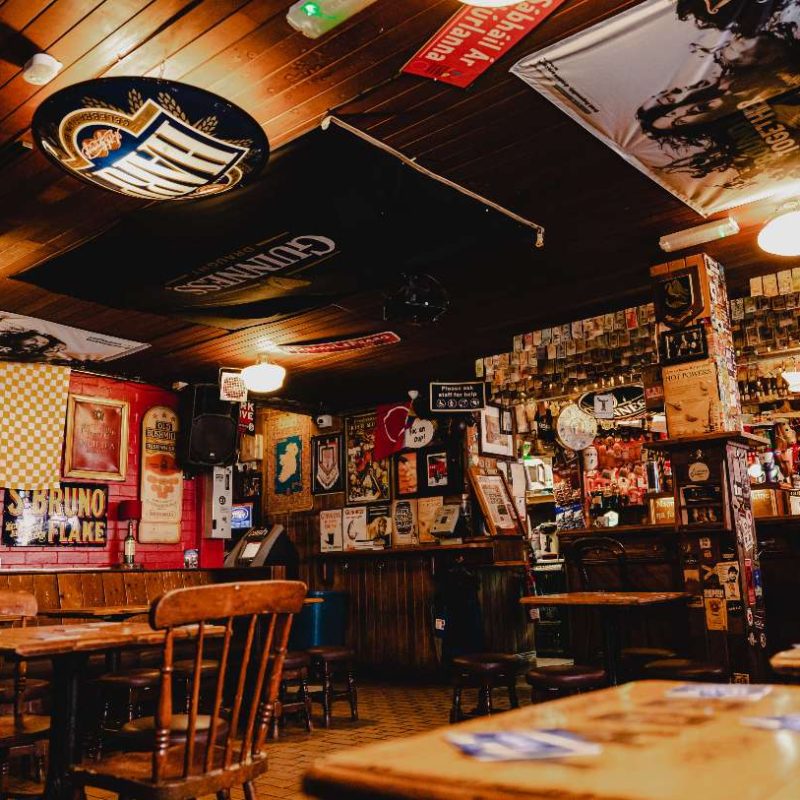 The Deer's Head
Our trails will sometimes start upstairs in The Deer's Head. Established in 1885, The Deer's Head is a traditional saloon bar in the city centre with a fully operational on-site craft brewery. If your reminder email mentioned The Deer's Head at 3PM, grab one of their home-brewed pints and settle in the Music Hall where our guides will kick off the Trail with some tunes !
For those who wish to have a bite before the trail, enjoy some delicious traditional pub dishes. Book your table at  028 9043 4655.
Check your reminder email sent to you 24h before the start to find out which venue to meet us at!
1-3 Lower Garfield Street,
Belfast, BT1 1FP
The Garrick
One of our newest partner venues is The Garrick! Established in 1870, The Garrick is now a lovely, cosy Victorian-style pub serving a very wide range of drinks at the heart of the city.
Don't miss their traditional music sessions 5 nights a week from Wednesday to Sunday as well as traditional singing session once a month.
Walk inside the tiled main bar, past the wooden snugs, through the back door and up by the staircase to meet your guides in the upstairs room, by the stone fireplace for some introductory tunes. Don't hesitate to ask a member of staff if you're not sure where to go!
It is also good to know for anyone visiting Belfast that the Garrick prides itself on its fresh, locally-sourced produce to create a beautiful daily menu. Call and book your table at 028 9032 1984 !
29 Chichester Street,
Belfast, BT1 4JB
The Jailhouse
Another starting point to our Trails every now and then can be The Jailhouse. Lodged in the tiny, cobbled alleyway of Joy's Entry, it was long thought to be the building where the entries namesake was held as a prisoner before being hung in Corn Market. At 3PM, follow the music and meet our guides upstairs in the Gin Bar.
The Jailhouse as it is now known has been frozen in time for the last 70 years. Restored as part of the Joys Entry project, it has managed to keep much of the original character of the building. Brick walls, inscribed beams and original windows, take a closer look and see what history and tales you can find while you sip on tipples and nibble on rations.
Check your reminder email sent to you 24h before the start to find out which venue to meet us at!
4, Joys Entry,
Belfast BT1 4DR
Whites Tavern
Our trail occasionally takes place in Whites Tavern! This historic 17th-century tavern is in Winecellar Entry, an old trading alley where Mercury Newspaper was founded in the 1850s. White's Tavern is proud to be part of the oldest buildings in Belfast. Renowned for our high-quality food, creamy pints and live music, Whites also hosts a traditional music session on Monday nights from 7pm to 10pm!
Our trails take place upstairs, but don't hesitate to ask a member of staff if you're not sure where to meet your guides. Check your reminder email sent to you 24h before the start to find out which venue to meet us at!
2-4, Winecellar Entry,
Belfast BT1 1QN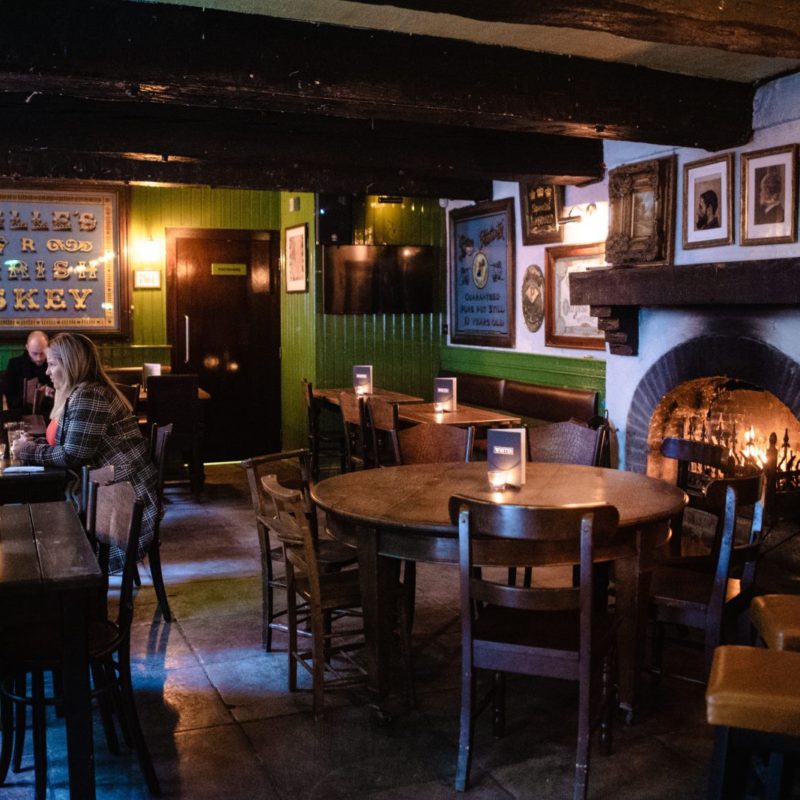 THE OH YEAH
Our guides sometimes like to take you in the heart of the Cathedral Quarter, around the Oh Yeah centre, a dedicated music hub that contains exhibitions on local music, a recording studio, rehearsal space, a gig venue and a café. Oh Yeah is a registered charity and social enterprise, providing particular support to young musicians and those starting out in their musical careers.
15-21 Gordon Street,
Belfast, BT1 2LG
McHUGH's
The end of the Trail will generally lead you onto High Street and Queen's Square where the River Farset, which gave Belfast its name, still flows underfoot. Our final stop is a private room in McHugh's Bar, housed in one of Belfast's oldest buildings. Constructed in the early 1700s in the historical commercial centre of the city, this Grade A listed building has been carefully restored using traditional materials and techniques.
For those who wish to eat after the tour, McHugh's 100 seater restaurant serves Irish cuisine with a modern twist using ingredients sourced from local suppliers. A 10% discount on food is offered to Trad Trail participants. We'd recommend the steak! Please note pre-booking is essential for dinner reservations. The restaurant can be contacted on +44 28 9050 9999.
29-31 Queen's Square,
Belfast, BT1 3FG