FÁILTE
The Belfast Traditional Music Trail is a unique way to experience Irish music, as featured in Lonely Planet's 'Best in Travel' and Discover NI's 'Embrace a Giant Spirit'.
With two professional musicians as your guides, walk through cobbled alleyways, past famous landmarks and on to private bars in some of the city's oldest buildings. At each stop you will be treated to a performance of traditional tunes, songs and stories, all of which make up your own personal 'session'.
Enjoy a local beer, cider, whiskey or Guinness while learning about the instruments, language, customs and history that make up Ireland's vibrant musical tradition. Join us on this interactive experience and discover why Belfast is considered one of Ireland's best cities for traditional Irish music
We partner with a number of venues at the heart of Belfast City Centre. It's here we enjoy live traditional music, eat some local food & drink some beer! Our trails generally start in the upstairs room in Madden's Bar but check your reminder email to have updated information! Don't forget to pop into our other venues during your stay to extend the experience!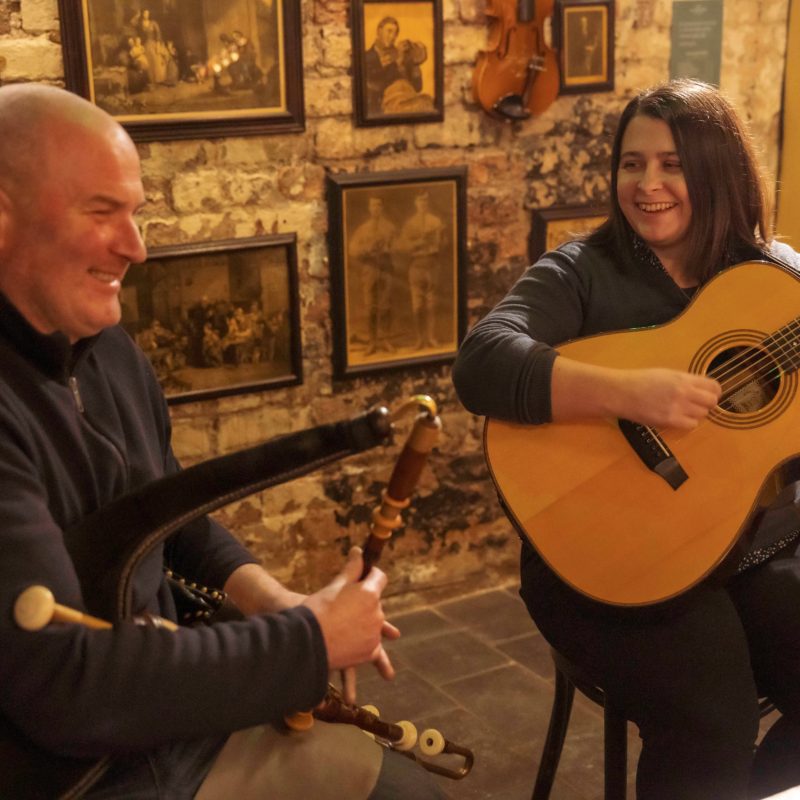 Belfast Traditional Music Trail is run by An Droichead – an award-winning Irish language and cultural centre with a reputation as one of Ireland's premier venues for Irish Traditional music.
REVIEWS
The Belfast Traditional Music Trail has been featured in Lonely Planet's 'Best in Travel', promoted by Discover NI's 'Embrace a Giant Spirit' and Trip Advisor, shortlisted for an Aisling Award and received a commendation as a Tourism NI 'Authentic NI Experience'.
We've had the pleasure of meeting a wide variety of great people on our tours – from locals to tourists, experienced musicians and dancers to those who've never played a note or danced a step before – we've had great fun with you all! Here are a few comments from them. More of our 5 star reviews can be found on TripAdvisor.
"An excellent tour for anyone who wants to learn about the music and the city." (Val, England)
★★★★★
"Very relaxed, informative and great musicians." (Anna, Belfast)
★★★★★
"A great idea for locals and tourists alike, we will definitely give it another go and bring some friends when they next visit the city." (Custir, Lisburn)
★★★★★
"Fantastic afternoon and a highlight of my trip from NZ without a doubt. Thank you." (Carol, New Zealand)
★★★★★
"A wonderful way to interact meaningfully with the local culture. Highly recommended (and perfect for a rainy day!)" (Kelowna, Canada)
★★★★★
"What a thoroughly enjoyable experience presented by excellent musicians. Their enthusiasm and love for the music was infectious." (London, England)
★★★★★
"We enjoyed excellent music, discussion of musical traditions and instruments, and even step dancing. The pubs we visited were friendly and having a private room to listen to the musicians made the whole tour feel very special." (Rich, USA)
★★★★★
"Hugely informative and tremendous fun throughout! I can't recommend this highly enough – don't miss it if you're in Belfast!" (Espresso Underground, Belfast)
★★★★★
"Probably the best way to spend a Saturday afternoon in Belfast, the enthusiasm and knowledge of the musicians and dancers is fantastic. I would highly recommend this fantastic tour." (Mark, England)
★★★★★